Fish markets in Korea (1st part)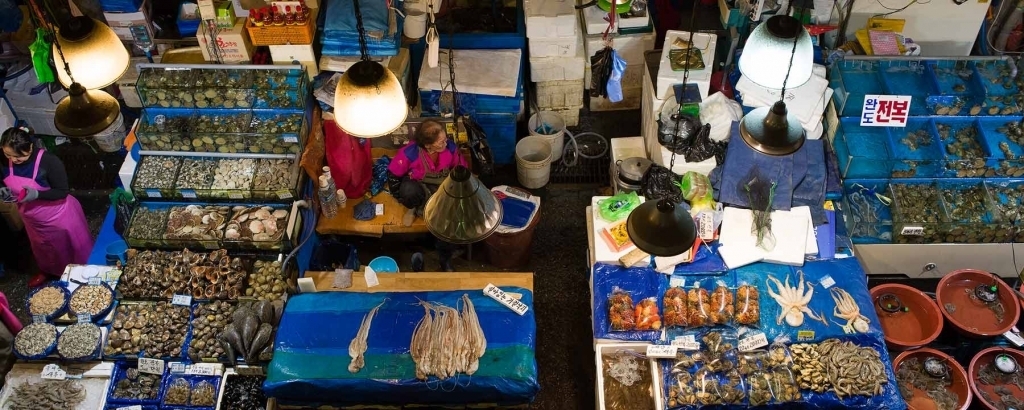 How fresh can you get?
In one of his travel graphic novels animator Guy Delisle says that in Asia a fish is not considered fresh when it starts floating on its back- in other words in Asia for a fish to be considered fresh, it has to be alive just before being cooked. This might seem unimportant to us but in Korea it is a serious matter indeed and the best way to see that rule in action is to visit a fish market.
Noryangjin is Seoul's fish market and is mostly known for the large choice of ocean inhabitants that you can find still alive there. The main market building is reminiscent of Blade Runner in its style and feel and its not the kind of place that has a very welcoming feeling to it, especially upon entering the building for the first time. Just check out the way leading to the entrance and the entrance itself!
You enter Noryangjin market main building through the roof (when arriving from the metro station), and while this may not have been the architect's first intention the experience of the market you get as you descend downstairs is impressive to say the least.
The whole area inside the market is organized by "zones" corresponding to the type of "ocean being" you are looking for. Every single fish or other ocean being is kept alive in a tank so that customers can easily choose which one they want to buy.
The wonderful thing about Korean fish markets is that once you have chosen your victim, or should I say – your fish, it can be sent to one of the restaurants above the market building where it will be prepared for you.
Because we are speaking about eating fish it is useful to know that Koreans love eating sashimi. But in Korean the word is 회, and you pronounce it as "hway". If you want to eat "hway" at the market all you need to do is choose your fish in one of the tanks, and after that…well, you get the picture.
This market sells a huge amount of "ocean inhabitants", which not only includes fish. Thus, is not difficult to stumble upon people that specialize in selling very strange stuff….indeed!
For my part, I only tried the oysters because you can eat a dozen for only 7 US dollars.
And as always, if you want to go there, the easiest way is by subway. The fish market even has its own metro station appropriately named – Noryangjin. You can either go through line 1 or 9. Then take exit number 1. The market is open till late at night but most of the main activity is early in the morning.
Enregistrer
Enregistrer