Fish markets in Korea (2nd part)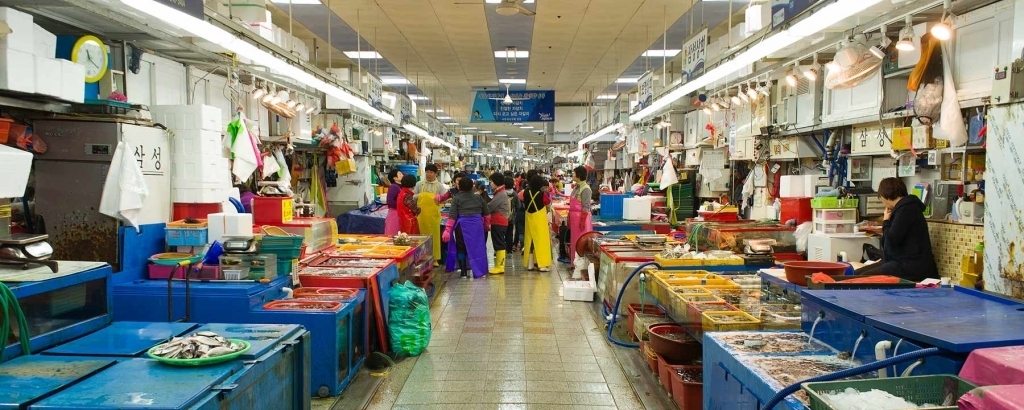 Even more fresh fish!
The city of Busan, in the south of South Korea, has what is considered to be the best fish market in all the country- Jagalchi. Maybe that is the reason why its fish market building is bigger and in much better shape than the fish markets I encountered in Seoul.
Inside the building the amount of fish you can find (still alive, of course) is impressive. I never imagined in my wildest dreams that one day I was going to see trigger fish or tuna kept alive in a tank in order to be eaten afterwards. I even spotted a ray, but they had cut its tail to make it fit inside the aquarium. (This market is not for the faint hearted)
This is not a place where fishmongers are concerned with "animal suffering" issues. Which, in my opinion, is one of the most disturbing aspects of these fish markets, where Asian fishmongers manipulate live fish as if they were only inanimate things!
The market is organized into sections similar to Noryangjin in Seoul, however in Busan's Jagalchi market, the restaurant section is much bigger. Some of the restaurants even have their own tank of living fish that you can buy from.
Finally, Jagalchi market also has a large section of its market dedicated to the sale of dried fish and seafood. Like its living fish section, the variety of things that you can buy is quite impressive.
If you are wondering if I got to taste Korean sashimi, the answer is no, because in order to do that you need to buy a whole fish and I don't think I could eat a trigger fish on my own.
The easiest way to go to Jagalchi market the easiest is to take the subway, line 1 till you reach the station called Jagalchi and then take exit 10. And similar to the fish markets in Seoul, the peak of activity in the market happens early in the morning!
Enregistrer
Enregistrer