Trekking in Korea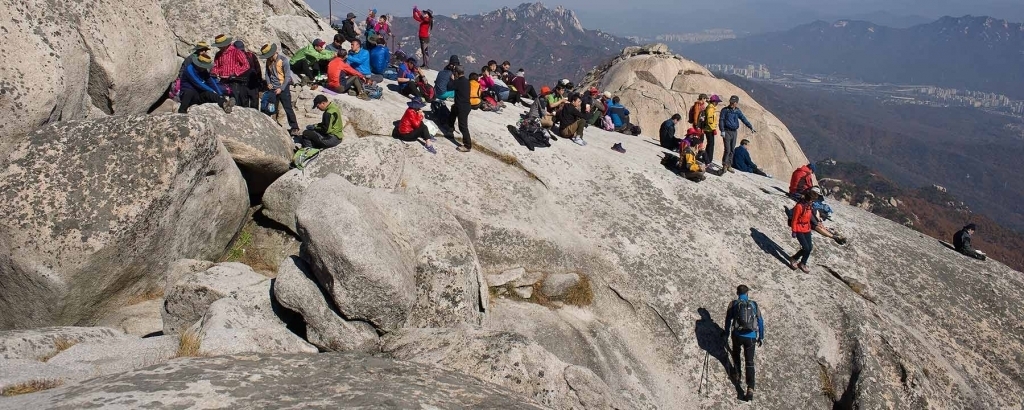 Wandering around the country of the morning calm.
Before getting to Korea, among all the information I had read, there was a phrase that did not seem important at that time:
"Trekking is the number one outdoor sport in Korea"
I resumed my reading after that, without much thinking about what that phrase really meant.
To say that Koreans like trekking would be a huge understatement. The term that would better suit with what happens in Korea would be: Koreans live for trekking, 24/7. What is more, Korea has a very mountainous shaped landscape with a lot of forests, so that makes a lot of places to trek.
One good example of this passion for trekking is Bukhansan National Park, which is literally beside Seoul, you can almost get there by the subway! Which is also the reason why thousands of people go trekking there every day.
One of the great advantages of trekking in Korea is that the trails are always in good condition and well signalled. The ways paths are clean, sometimes they have been paved with stones and you can also find stairs for the difficult passages.
The only thing you need is a good pair of trekking shoes, some water, some food, a sunny day and you are all set for a good trek….
But ….. as I said, trekking is the number one sport in Korea.  The and the proof of that are is the 100 one hundred people that you are likely to meet at the summit of one of the peaks of thein Bukhansan national park, because they started the trek almost at the same time as you did and considering also that you did this trek during a week day.
So it is while you are going back, that you get to understand this little factinfo about the trekking in Korea, . Why? Bbecause you will surely meet at least 500 five hundred more people going up, because they started their trek later than you did.
An Iit keeps going on and on, until you arrive atto the place you started. And yYou might even see some people that are starting the trek you started at 9:00 in the morning, at 4:00 PM (16:00) the trek you started at 9:00 in the morning!!!
And to finiish the experience, take a look at this : "trekking shoes cleaning station" provided graciously by an outdoors supplyies brand.
To get to Bukhansan National park, from Seoul, take the subway line 3 and stop at Yeonsinnae, then change to bus number 37. You just need to follow the rest of the people that are also going to trek in the park.
Enregistrer
Enregistrer